Over the weekend I went to the first
Great American Author Expo
at the
Peppermill Casino
in Reno, Nevada. Found out about it via the casino at the last minute, so I wasn't able to host my own booth. But there is a
Facebook page
so people can keep an eye out for the event next year. If you are an author in California, Northern Nevada, Oregon or anywhere else and need a vacation in Reno, keep an eye out for next year's event.
There were some authors with great promotional products. There were a few authors that needed some or needed more. Zazzle.com is a great place for authors to print small quantities of promotional products like book cover business cards. I have some customizable products set up in my
Book Promotion
online store hosted on their site.
Book Cover Business Card
by
bookpromotion
Browse other
Book Business Cards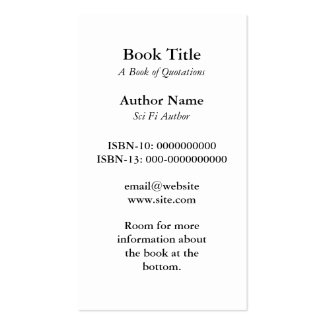 Book Cover Business Card
by
bookpromotion
Look at Book Business Cards online at
Zazzle.com