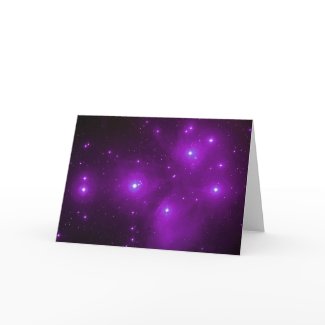 Pleiades in Purple Card
by
annaleeblysse
Browse other
Purple Cards
Today greeting cards are a whopping 75% off! One of the biggest discounts I've ever seen! On this card sample's page in my store, you'll see the coupon code prominently displayed at the top of the page.
Pleiades in Purple Card at Zazzle.com - Lovely, glowing purple (thanks to my digital art program) stars from the Pleiades Star Cluster (thanks to NASA/Hubble) were used to create this space art. I thought the glowing bright stars worked perfectly with this ultraviolet royal purple color. Look for the matching custom postage stamps.
Posted via email from Annalee Blysse @ posterous on posterous.