I haven't had a chance to see the new movie yet. People tell me it is great. Maybe this weekend.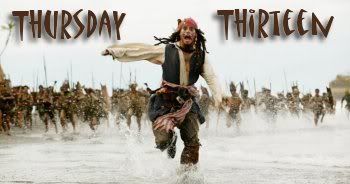 Thirteen Favorite Jack Sparrow Quotes
Black-Toothed Diva: Davey Jones cannot make port, cannot step on land but once every ten years. Land is where you are safe Jack Sparrow. And so you will carry land with you. [Hands Jack a jar.]
Jack Sparrow: Dirt. This is a jar of dirt.
Black-Toothed Diva: Yes.
Jack Sparrow: Is the jar of dirt going to help?
Black-Toothed Diva: If ya don't want it. Give it back.
Jack Sparrow: No.
Black-Toothed Diva: Then it helps.



(When Elizabeth Swan shows up on board the Black Pearl.)
Jack Sparrow: Come to join my crew, lad? Welcome aboard!
Elizabeth Swann: I'm here to find the man I love.
Jack Sparrow: Deeply flattered, boy, but my first and only love is the sea.
Elizabeth Swann: Meaning William Turner, Captain Sparrow.
Jack Sparrow: Elizabeth! [to Gibbs he mutters] Hide the rum.



Gibbs: Let's put some distance between us and this island and head out to open sea.
Jack Sparrow: Yes to the first. Yes to the second, but only insofar as we keep to the shallows as much as possible.
Gibbs: Ah, that seems a bit contradictory, Captain.
Jack Sparrow: I have every faith in your reconciliatory navigational skills, Master Gibbs. Now where is that monkey? I want to shoot something!
(I'm sure the movie's disclaimer mentioned to actual monkey's were shot during the filming of this movie.)



(to Elizabeth) You know, these clothes do not flatter you at all. It should be a dress or nothing. I happen to have no dress in my cabin.



[Empties bottle of rum.] Why is the rum always gone?
[Stands up and staggers drunkenly.] Oh... that's why.



Jack Sparrow: Is this a dream?
'Bootstrap' Bill Turner: No.
Jack Sparrow: I thought not. If it were, there'd be rum.
('Bootstrap' Bill Turuner hands him a bottle of rum.)



Jack Sparrow: Mr. Gibbs.
Gibbs: Captain.
Jack Sparrow: We have a need to travel upriver.
Gibbs: By "need," do you mean a trifling need? Fleeting? As in, say, a fancy?
Jack Sparrow: No, a resolute and unyielding need.



(to Elizabeth) Darling, I am truly unhappy to have to tell you this, but through an unfortunate and entirely unforeseeable series of circumstances that had nothing whatsoever to do with me, poor Will has been press-ganged into Davy Jones's crew.



(Talkign to Elizabeth about Will who's knocked out.) Leave 'im lie... unless you're planning to use him to hit somethin' with.



My tremendous intuitive sense of the female creature informs me that you are troubled.



[to Bootstrap] And to what do I owe the pleasure of your carbuncle?



Will Turner: What vexes all men?
Black-Toothed Diva: What, indeed.
Gibbs: Well, the sea!
Pintel: Sums!
Ragetti: The dichotomy of good and evil.
Jack Sparrow: A woman.



Jack Sparrow: How did you get here?
Will Turner: Sea turtles, mate. A pair of them strapped to my feet.
Jack Sparrow: Not so easy, is it?



Links to other Thursday Thirteens!
The purpose of the meme is to get to know everyone who participates a little bit better every Thursday. Visiting fellow Thirteeners is encouraged! If you participate, leave the link to your Thirteen in others comments. It's easy, and fun! Be sure to update your Thirteen with links that are left for you, as well! I will link to everyone who participates and leaves a link to their 13 things. Trackbacks, pings, comment links accepted!