Haven't stopped into WWW-land for a while now. While I've been gone my nephews came into the world early. Now they're ten days old and all is well. Together they still weigh less than I did when I was born! But their cuter than I was, so things even out in the end. ;) Do I sound like an aunt, or what?
Been working. I got a little insight into how people really do watch the news and let it change their opinions. Imagine that! The other night one of the networks was kind enough to have a segment that basically said that private debt collectors would be worse than the IRS when it came to collecting, and in general comparing us to criminals. Starting the next morning the incidence of trouble from the other end of the line rose drastically. Usually I get about 1 person a week cuss the blue streak, since that news hit I've had about 10 a day. Even got a mild threat of bodily harm. It wasn't anything that graphic, but I'll skip the details. After I hung up I thought "this man might be insane but he won't fly across the country" and then it occurred to me "this wouldn't be bad dialogue for a villain". Good thing I'm a writer.
I have been reading the Stephanie Plum series. That was one of my New Years' Resolutions that I'm done with. Eleven On Top wasn't available in mass market when I made the deal, and I'm nearly done with it. I woke up at 4:00 in the morning today and couldn't sleep again so I read most of it before going to work this morning. (Went to sleep at 9! On a Friday night! What a wimp!)
Now I'm debating spending $20+ on the hardback version of Twelve Sharp. They entire series is hilarious and I don't want to wait until it comes out in paperback and seeing as how it is reserved from now until it comes out in paperback at the library, if I want to keep up the momentum I'll be over at Borders this evening.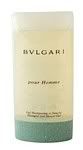 I'm leaning more toward Ranger in the love triangle thing going on. In "ten" I could definitely get a bead on taking a shower with Ranger's shower gel. But it did occur to me that Stephanie wouldn't have had to ask about the brand name because ...
it would be labelled
. (Eleven On Top is one of the items Amazon.com customers bought along with this. Suppose that mean Evanovich has spiked Bvulgari's bottom line?)
Okay, back to fantasizing about men. The aphrodisiac qualites of Ranger's shower gel might have worked for me too, but if I could jump into the pages of a book ... I'd want to meet Tank. But he's the one I keep wondering about. Ha.
As for what I'm reading next, the problem is that I already bought about ten books in August and I want to read Nora Robert's new vampire book Morrigan's Cross which will be released in just a few days. Choices. Choices. This new series will have a book in August, September and October as I recall. They are right up my alley for reading material and I imagine they'll be sold in that new larger, comfort paperback that costs a bit more.