This coming week is Read An E-Book Week (March 5-11th, 2006). It was created four years ago as a way to promote the new industry and share with readers the advantages of electronic books.
Here's why I read eBooks...
#1 - Instantaneous satisfaction! When I want a book I can go to a Web site, buy it, and be reading within a few minutes. I really don't like driving across town to discover the bookstore doesn't have what I want. Electronic books provide immediate gratification for readers.
#2 - This years' theme "Fresh Voices - Fresh Choices For Readers" exemplifies what I find true of the epublishing industry. I enjoy the dedication to books and creativity that I find in small publishers like
New Concepts Publishing
where my own books are published. From talking with other authors published by other ePubs, I think they'd say the same thing. If the entire publishing industry was had those ideals I wouldn't see so many Harry Potter spin-offs when I walk through the bookstore.
#3 - And speaking of Harry Potter. Last July my first short story
Never A Sunset
was released the same day as the last Harry Potter release. I remember hearing in the media that the first 5 Harry Potter books in the series have sold so many copies that if they were all lined up they could span the equator twice. That is a lot of books, and that means a LOT of trees have died so people can read. So, I made this little graphic advocating no electrons were destroyed to make any of my eBooks.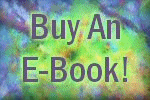 Now it's your turn... why do you read eBooks?
If you haven't tried, and enjoy romance, if I may point out my author page
NCP
. How is that for shameless promotion?
Truth is there are a lot of other great books available! Actually, I plan to list a few over the coming week in honor of Read an E-Book Week.
That said...
Never A Sunset
is coming out in print in two week in an anthology called
Immortal Lovers
so I just want to warn you I'll be touting the advantages of print books soon too. I love eBooks, but I read print books still.